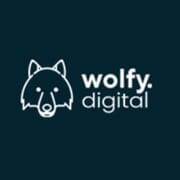 Wolfy Digital
Digital Marketing & SEO Agency
We produce growth-oriented solutions !
We handle all the processes you may need in digital.
Wolfy!
We analyze what your brand needs, produce the most suitable solution for your needs and contribute to your growth.

-Young and Innovative
With our young team, we closely follow all innovations in digital media and quickly implement developments that will benefit our brands.
-Result oriented
We care about the results of all the work we do as much as the process. We prioritize being benefit-oriented in our work.
-Boutique
We approach all our brands with the same sincerity. We work as if we are the marketing team within your brand and produce solutions as if it is our own business.
-Sustainable
We transparently share with you the analysis, application processes and application steps we have carried out for your brand. We prepare a monthly service report and make evaluations in line with this report.

Our Digital Solutions
We plan and realize all the developments that your brand may need in the digital field..

-SEO
We increase the number of organic visitors by raising your website to the top of Google searches.
-Google Ads Ads
We aim to achieve high conversions at low cost by running effective Google advertising campaigns.
-Social Media Ads
We show your ads to the most accurate target audience on social media such as Facebook and Instagram.
-Content Marketing
We deliver your brand directly to the customer by producing content focused on benefiting your customers.
-Influencer Marketing
We strengthen your brand image and increase your sales with influencers that will contribute to your brand value.
-Software development
We develop software for your website and mobile application ideas.
Levent, Side Business Center, Sultan Selim Mah, Sultan Selim Cd. No:1 D:K:5 Kağıthane/Istanbul
Geschäft kontaktieren